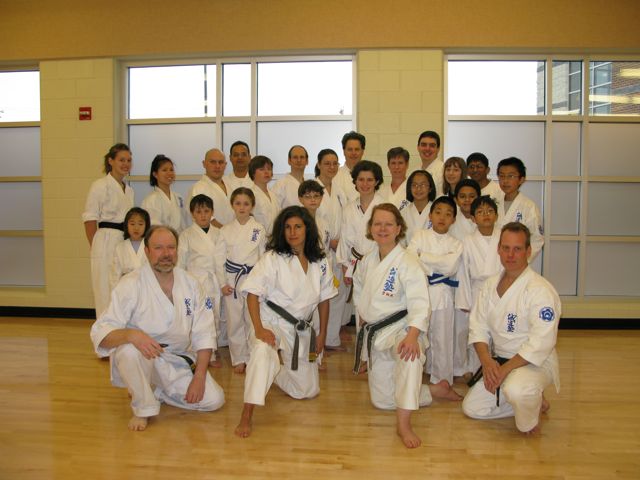 Howard County Seido's Kagami Biraki (New Year's Class), January 2009
Howard County Seido Karate
A Special Message from Sei Shihan Kate Stewart
To all our members,
This pandemic is globally and personally disruptive. It affects all of us. Many people are out of work, many businesses are suffering. That said, what can we do?
As karateka, maybe more than most people, we have a secret wish to be a hero. A hero who helps someone without seeking anything in return. In this special case, we can all be each other's heroes. It isn't the dramatic heroism of saving someone from a burning building. It is the quiet heroism of supporting our communal health through social distancing, washing our hands while maintaining contact with our friends and family. That said, I hope everyone is striving to maintain a calm, positive attitude.
I think the loss of our routines and the apparent futility of achieving goals we have set for ourselves is disheartening. We have three students who were planning on taking their junior black belts this month. I do not know when it will happen, but IT WILL HAPPEN. Achieving our goals, whatever they are, is still possible. Do not give up. We need routines to establish a new normal. Let us build routines that support achieving our goals.
First, set a challenging goal. Take that goal and divide it into smaller goals. Imagine your goal is to read a book. A book is finished by reading chapter after chapter, page by page. Set up a schedule and a plan to meet these smaller goals. Make sure that the plan is achievable. If you don't meet a goal, it is not a failure, just readjust the plan.
For those of you training for your next promotion, your goal is to be ready and well-prepared. Take your syllabus and break it into smaller goals. Set a schedule and a routine that will allow you to meet these smaller goals. Post your schedule on this page. I would like to see weekly updates on how you are progressing. I am still here to support you. With Sensei Dave's help, I will look into better ways to support you.
I look forward to all of us training together.
Sincerely,
Sei Shihan Kate Stewart
---
Seido karate provides training for self-development, self-defense, and physical fitness for adults and children. See the main Seido website at www.seido.com for more information about Seido karate, the World Seido Karate Organization, and its founder, Kaicho Tadashi Nakamura.
Howard County Seido Karate holds classes at the Dancel Family Center YMCA on Monday and Wednesday evenings, and Saturday mornings/afternoons.
Potential students with special needs are encouraged to contact us - we believe that the benefits of karate training should be available to everyone.
Jun Shihan Kate Stewart
Sensei David Smith
Our Facebook page: facebook.com/seidohcmd
Contact the Dancel Family Center YMCA for registration information:
YMCA of Central Maryland
Dancel Family Center
4331 Montogomery Road
Ellicott City, MD 21043
410-465-4334
www.ymaryland.org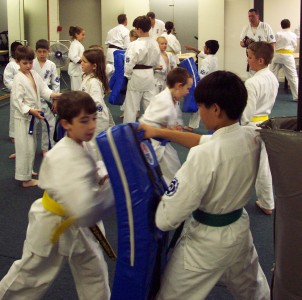 Class Schedule
Effective January 5, 2009
Day
Adult
15+ yrs.
Youth
7-15 yrs
Pee-Wee
5-7 yrs
Monday
7:00 - 8:00 PM
All levels
8:00 - 9:00 PM
All levels
Wednesday
6:20 - 6:50 PM
All levels
7:00 - 8:00 PM
All levels
8:00 - 9:00 PM
All levels
Saturday
11:15 - 11:45 AM
All levels
12:00 - 1:00 PM
Advanced
(Green belt and above)
1:00 - 2:00 PM
Black belt
2:00 - 3:00 PM
Beginner
(White through
Adv. Yellow Belt)
Welcome to Seido Karate (for prospective students) from Seido Karate on Vimeo.