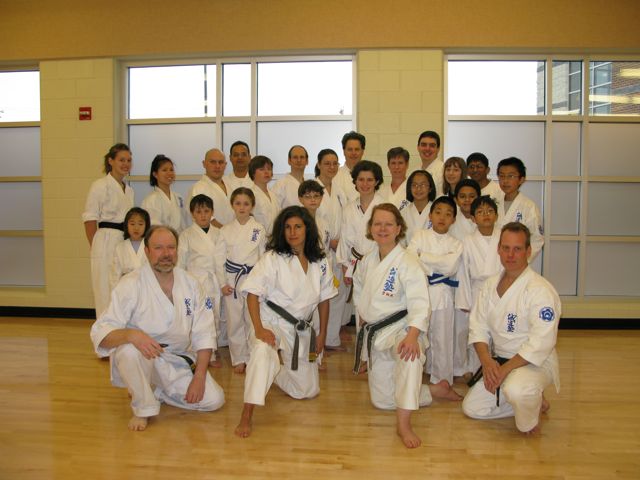 Howard County Seido's Kagami Biraki (New Year's Class), January 2009
Howard County Seido Karate
Seido karate provides training for self-development, self-defense, and physical fitness for adults and children. See the main Seido website at www.seido.com for more information about Seido karate, the World Seido Karate Organization, and its founder, Kaicho Tadashi Nakamura.
Howard County Seido Karate holds classes at the Dancel Family Center YMCA on Monday and Wednesday evenings, and Saturday mornings/afternoons.
Potential students with special needs are encouraged to contact us - we believe that the benefits of karate training should be available to everyone.
Jun Shihan Kate Stewart
Sensei David Smith
Contact the Dancel Family Center YMCA for registration information:
YMCA of Central Maryland
Dancel Family Center
4331 Montogomery Road
Ellicott City, MD 21043
410-465-4334
www.ymaryland.org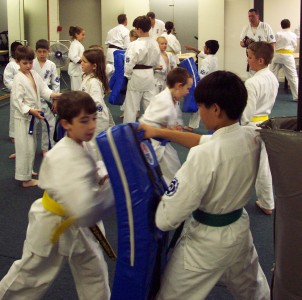 Class Schedule
Effective January 5, 2009
Day
Adult
15+ yrs.
Youth
7-15 yrs
Pee-Wee
5-7 yrs
Monday
7:00 - 8:00 PM
All levels
8:00 - 9:00 PM
All levels
Wednesday
6:20 - 6:50 PM
All levels
7:00 - 8:00 PM
All levels
8:00 - 9:00 PM
All levels
Saturday
11:15 - 11:45 AM
All levels
12:00 - 1:00 PM
Advanced
(Green belt and above)
1:00 - 2:00 PM
Black belt
2:00 - 3:00 PM
Beginner
(White through
Adv. Yellow Belt)
Welcome to Seido Karate (for prospective students) from Seido Karate on Vimeo.